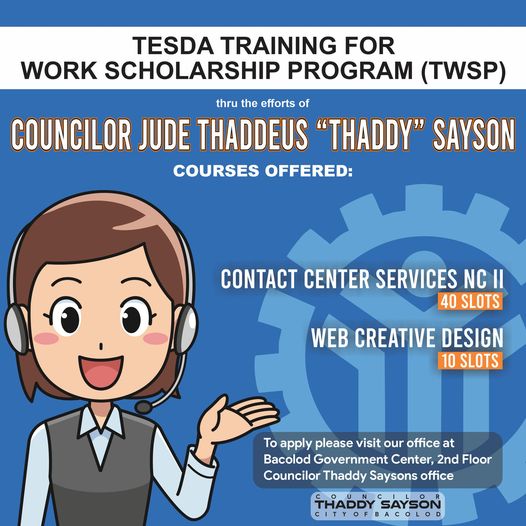 Kaupod ni COUNCILOR THADDY SAYSON kag Technical Education and Skills Development Authority (TESDA) ga offer kita TESDA scholarship para sa aton mga taga Bacolod.
Courses Offered:
1. Contact Center Services NC II (40 slots)
2. Web Creative Design (10 slots)
Qualifications:
1. Resident of Bacolod City
2. 18 years old and above
3. For Contact Center Services NC II – at least High School graduate (ALS grad, junior high, senior high
4. Creative Web Design – at least college level/college graduate
5. Capable of online training (with smartphone, pc, tablet, or laptop) and internet connection (wired, signal, or data)
Benefits:
1. FREE training
2. Full online session
3. Training support fund
4. Internet and uniform allowance
5. Job application endorsement right after training
For inquiries, you may go to COUNCILOR THADDY SAYSONs office at Bacolod Government Center 2nd Floor.