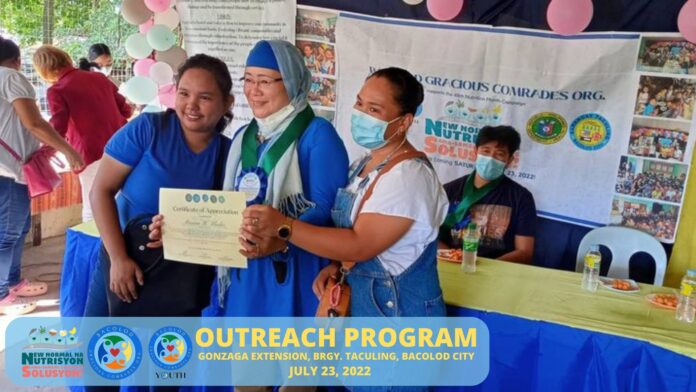 Our Outreach Program was a huge success!
We want to express our sincere appreciation to everyone who attended and supported our Outreach Program on July 23, 2022, in the Chapel of Gonzaga Extension in Barangay Taculing, Bacolod City.
First of all, we thank God for ensuring that everyone had an amazing time at our event. Because of you, our volunteers and members have been able to work hard and have fun while also fostering a sense of community among the children. May we become even closer as one and even more dedicated to fulfilling our mission to help others as a result of this experience.
To our guests, Hon. Joemart D. Jaunsan,
Mariam B. Khodier
, and the
Police Station 6 Taculing
. We appreciate your presence and hope you enjoyed yourself. We hope to see you on our future events. We sincerely appreciate your support.
To our sponsors Hon. Nino Petierre, Ivan Irog, Rowena A. Semillano and Leo Solis. Your assistance made the event a huge success. Without your help, the event would not have been possible. We look forward to your continued support in the future.
To
YOUTH – Bacolod Gracious Comrades Org.
, thank you so much for all the incredibly important work you did for our event! We want you to know how important your commitment is to the work we perform. Without you, we could not succeed. You give the youngsters ideas, a good attitude, and a lovely intensity.
Lastly, to our members: We sincerely appreciate your commitment to the Outreach Program. The dream is made possible by teamwork! Awaiting more outstanding work from everyone.
All of our activities together, including playing games, participating in TikTok challenges, kids who take part on our Nutrition Month costume contest, and enjoying foods that may help them stay healthy, were highly enjoyed by the kids, especially their parents and the volunteers who helped the kids and the guests.
We are incredibly grateful to each and every one of you for supporting our Outreach Program, spreading kindness, and sharing your blessings with the children of Barangay Taculing in making our event a wonderful experience for all.
Barangay Taculing, we are very honored that you have allowed us to bring you joy and share our blessings, and we value the chance to spend time with you.
We are overjoyed that the kids enjoyed every activity we engaged in with them and the volunteers who helped us. We genuinely hope that something from what the speakers stated was able to benefit you, and we hope that you enjoyed the meals we shared with you.
MADAMO GID NGA SALAMAT!
Gcash Donation:
Shylyn Olmedo
09104335347